Welcome to the WRHS 2021 AP Summer Institute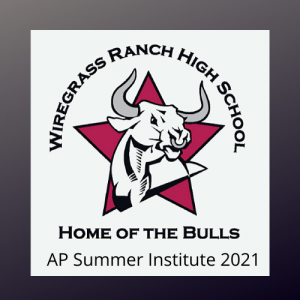 Wiregrass Ranch High School will offer an intensive, four-day, online Advanced Placement Summer Institute, endorsed by the College Board.  Workshops in the APSI will be taught by College Board endorsed consultants.  Training for several AP® courses will be offered during the week with a minimum of 30-hours of instruction for each. The workshops are designed for teachers to deepen their understanding of the Course and Exam Descriptions, written for the AP courses they teach. Many of the CEDs were new during the 2019-2020 school year.
The well-qualified consultants will provide insight for teaching the AP® course by exploring the course framework, the AP® exam, and AP classroom resources, including AP® Classroom, that will help plan and focus instruction throughout the year.  The APSI is a valuable opportunity for teachers to come together to share best strategies for helping students learn AP® course content and for taking and being successful on AP® exams.
Overview WorkshopsAPSI Registration