Florida College Campus Tour
Mrs. Batchelor
WRHS Career Specialist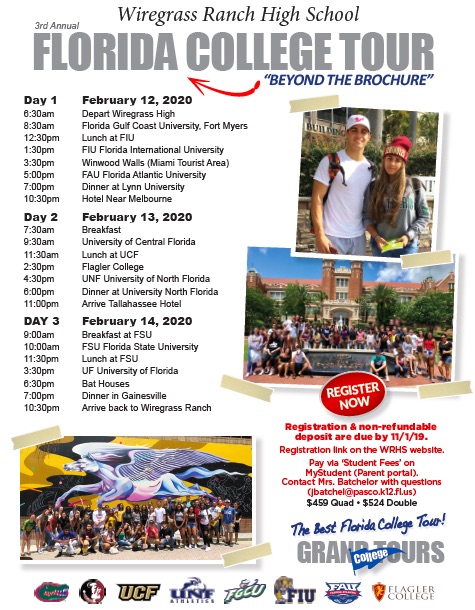 Tour Dates: February 12th – February 14th  
✓ What is it? Students will visit numerous Colleges in 3 days with a group of fellow students and school staff supervision. View flyer.

✓ When is it? From February 12th to February 14th.
✓ Who can register? This invitation is open to WRHS Junior Class Students.
✓ What are the costs? A non-refundable deposit of $100 is due upon registration and the overall cost of the trip varies depending on hotel room selection. The cost of the trip includes student's meals, transportation, hotels & fun activities. Keep in mind, spaces are limited!  Overall cost is $524 (for double occupancy) or $459 (for quad occupancy). Balance of trip is due prior to January 17th, 2018.
✓ How to register:  Parents can register their students using this online registration form. Remember, deposits are due upon registration otherwise, student reservation is considered incomplete.
✓ How to pay: Payments are made via 'Student Fees' on myStudent (Parent portal).
Parent Meeting
A  Parent Meeting will be held on Wednesday, October 9th, at 6 PM, for all interested parents and students; located in the Media Center at Wiregrass Ranch High School.