We have been informed that the Yuengling Center at USF is not able to hold our graduation in August as planned.  We immediately created an alternative plan because we recognize the importance of celebrating our 2020 graduates. We have rescheduled your graduation to July 31 at 7:30 pm at WRHS Stadium, with each graduate accompanied by two guests. More detailed information will be sent home next week.
We are determined to make this celebration special and to give you the opportunity to graduate surrounded by classmates and family, and to walk across the stage.
See the flyer below for more information.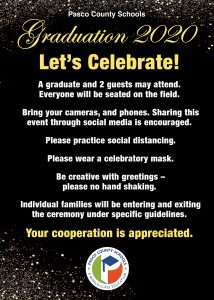 Diploma Photo and an Individual/Family Photo
Gigante Productions will be at your graduation to take both the diploma photo and an individual/family photo off stage.
CONGRATULATIONS to the CLASS OF 2020!
Please follow these steps to view your Graduation images:
1.      Go to our website – www.giganteproductions.com
2.      Click on Order My Portraits (top right side)
3.      Click on View and Order Portraits
4.      Enter Online Code or Keyword: is Your School Name
Sample: Anclote, Cypress Creek, Fivay, Mitchell, Pasco, River Ridge, Sunlake, Wesley Chapel, KTECH, Land O Lakes, Wiregrass, Gaither, Brooks Debartolo
5.   Click on the Gallery – Receiving Diploma, Senior with Diploma or Candid's