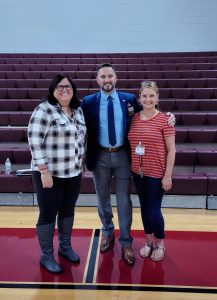 Robyn White-Principal; Dustin Stull-Guest Speaker; Kristine Hensley-Career Specialist

Mission & Role
College-Career Specialists plan and implement a comprehensive career development program designed to assist all students, parents and staff in Pasco County High Schools.
College-Career Specialists provide individual and group advisement to assist students in the career and academic exploration and career decision-making process.
College and Career Planning Seminar for Juniors
Click here for information about this 9 session seminar.
NEW in 2022: Navience
Navience is an online platform that helps students at more than 13,000 schools discover their strengths, explore college and career interests, create actionable goals and find their best-fit path after high school. Pasco County Schools has partnered with Naviance to provide you with tools for achievement through academic, career and college planning.
Navigating Your Financial Future
Info coming soon
 College
 
 
 
 
 
 
 
 
 
ACT
College Admissions Requirement
https://www.act.org/
SAT
College Admissions Requirement
Princeton Review
College & Testing Resource
https://www.princetonreview.com/
Community Service
 
Internal Website
SUS (Profile Matrix)
Annually, the State University System (SUS) Admissions Officers put together a detailed information prospective for students, parents and high school advisors.  The matrix profiles each school's average GPA, test scores, application deadlines, honors program requirements and more.
 
Florida College System
Florida State Board of Education
https://www.flbog.edu/
NCAA/NAIA
Collegiate Athletics Rescources
NCAA
College Board – Big Future
Nationally based college & career planning tool offered by College Board
https://collegesearch.collegeboard.org/home
 
 
 
 Career
 Financial Aid