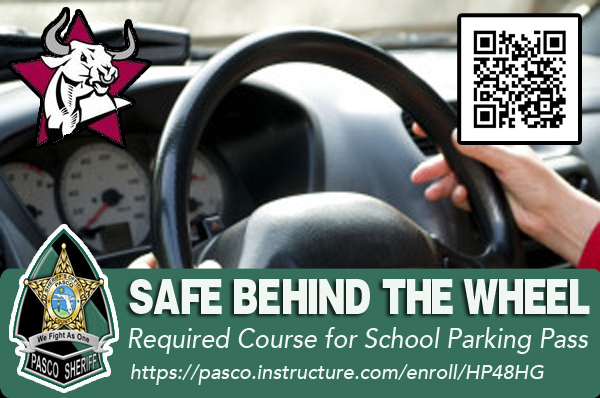 For  questions about Parking at Wiregrass Ranch High School, please contact Mrs. DeSimone  at edesimone@pasco.k12.fl.us
Enroll in Required Course
Students who purchase a parking permit are expected to enroll and complete the Safe Behind the Wheel – Wiregrass Ranch High School Driver Safety Course located within myLearning-Canvas. Dates and times for this course will be announced and posted. Failure to complete this free course will result in revocation of the student's driving privilege.
Download Application
Click here: Wiregrass Ranch High School Parking 22-23
How and when do I purchase a parking decal?
Students will be able to purchase parking passes on designated days before the school year starts and also the first week of school and throughout the school year as long as spaces are still available
Pre-Sale Parking for the 2022-2023 school year- if you can not purchase at this time, you can purchase the 1st few weeks of school, please listen for the announcements. 
July 26th Seniors ONLY 8AM – 1PM
July 27th Seniors and Juniors ONLY  8AM – 1PM
July 28th Open to all licensed drivers  8AM – 1PM
You MUST have all proper documentation. Proper documentation includes: score report from the "Safe Behind the Wheel" course, license, proof of insurance, proof of residency and $40.00 fee.
Students must be on-track (click here for ON-Track information) with Bulls PRIDE in order to get a parking pass. Students will be allowed to park on campus without a pass during that time. The application and list of required documents are below. 
Email Mrs. Packard at kpackard@pasco.k12.fl.us with any questions. 
Completed

 

WRHS Student Parking Application Wiregrass Ranch High School Parking 22-23
Copy

 

of driver's license with parent and student signature
Copy

 

of Proof of residency (example: utility bill)
Copy

 

of your registration
Copy

 

of your proof of valid insurance
Copy

 

of completion of

Safe Behind the Wheel – Wiregrass
Parking spaces are limited and they will be sold on a first-come, first-served basis.
It is the expectation that at the time of purchase, students have the documents/requirements listed above.
Parking permits will not be sold if these requirements are not met.