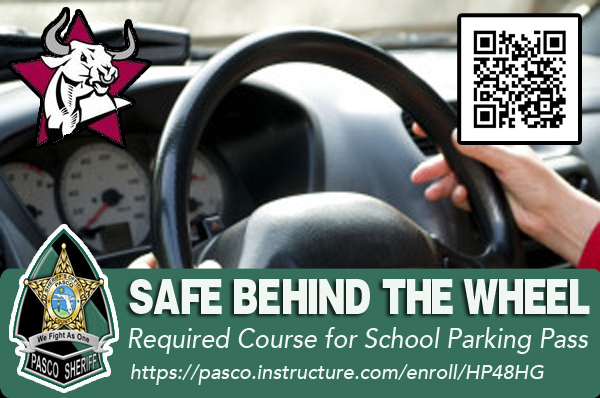 For  questions about Parking at Wiregrass Ranch High School, please contact Mrs. DeSimone  at edesimone@pasco.k12.fl.us
Enroll in Required Course
Students who purchase a parking permit are expected to enroll and complete the Safe Behind the Wheel – Wiregrass Ranch High School Driver Safety Course located within myLearning-Canvas. Dates and times for this course will be announced and posted. Failure to complete this free course will result in revocation of the student's driving privilege.
Download Application
Click here: Wiregrass Ranch High School Parking 23-24
How and when do I purchase a parking decal?
Pre-Sale Parking for the 2023-2024 school year- if you can not purchase at this time, you can purchase the 1st few weeks of school, please listen for the announcements. 
July 25th is SENIORS ONLY
July 26th is SENIORS & JUNIORS ONLY
July 27th ALL STUDENTS
Please closely read the application. To qualify for a parking permit, you must: 
Have COPIES of all required documents (see application for list)
Be ON TRACK
Complete the "Safe Behind the Wheel" course (please bring verification that it was completed)
Pay the $40.00 parking permit fee 
You can pay online through Rycor (make sure to sign into your parent portal) or in person by cash or check made payable to Wiregrass Ranch High School
Please email Mrs. Packard if you have any parking related questions. kpackard@pasco.k12.fl.us
Parking spaces are limited and they will be sold on a first-come, first-served basis.
It is the expectation that at the time of purchase, students have the documents/requirements listed above.
Parking permits will not be sold if these requirements are not met.