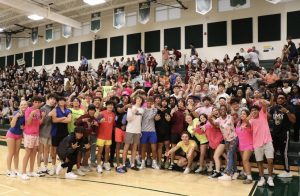 The Wiregrass student section "glowed out" for the Cypress Creek volleyball game. Photo by Arielle Bowry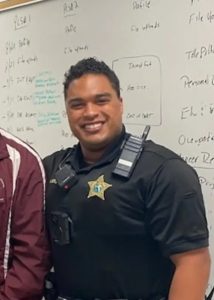 SRO Corporal Keys
Photo by WRHS Stampede
Student Home Page
Student Access to myPascoConnect
Student Online Portal: myPascoConnect
General Student Sign On – Username: Student ID Password: (provided to students)
WRHS National Honor Society
If you're interested in community service initiatives and want to help the NHS club, you came to the right place.
Applications will be accepted, beginning August 15th. Stay tuned for more information about the application process. In order to apply and be considered for membership you need to meet the following criteria:
-11th or 12th grade during 2022-23 school year
-3.2 or higher current unweighted GPA -Have zero level 3 disciplinary referrals & fewer than three level 1 or 2 referrals -Have at least 20 service hours registered with WRHS by the first day of school
Click Here for more information
Important Announcements
Meal Delivery Service Policy Students may not utilize meal delivery services from local pizza establishments, Uber Eats, or other delivery options during the student day.
Academic Awards Policy Beginning with the 2018-19 school year, we will change the requirements for the Academic Awards. From this year forward, these awards will be based on a 3.5 unweighted cumulative GPA. This change was made due to the fact that quarterly GPA's do not include online classes or Dual enrollment courses. We hope that this will be more equitable for all of our students.
ACADEMIC INTEGRITY WRHS expects students to act with integrity; therefore, academic dishonesty is NOT tolerated. Academic dishonesty includes forging signatures, cheating or attempting to cheat on an exam, presenting another's work as one's own, and one's work being copied by another. If this occurs, all students involved will face the following consequences:
1st offense: Assigned the academic integrity module (must complete to receive credit)
2nd offense: redo & 75% of points you actually earned & referral (if you don't redo, 0%)
3rd offense: redo & 50% of points you actually earned & referral (if you don't redo, 0%)
4th+ offense: 0% & referral
 *time to redo dependent on assignment & teacher's discretion
So, don't cheat. Do your own work. Act with integrity.
Tardy Policy Consequences
Dress Code Policy Consequences
Please visit the Student Code of Conduct for the current Dress Code Policy. 
Click Here for more information
Bulls Pride Program
School & District Policies