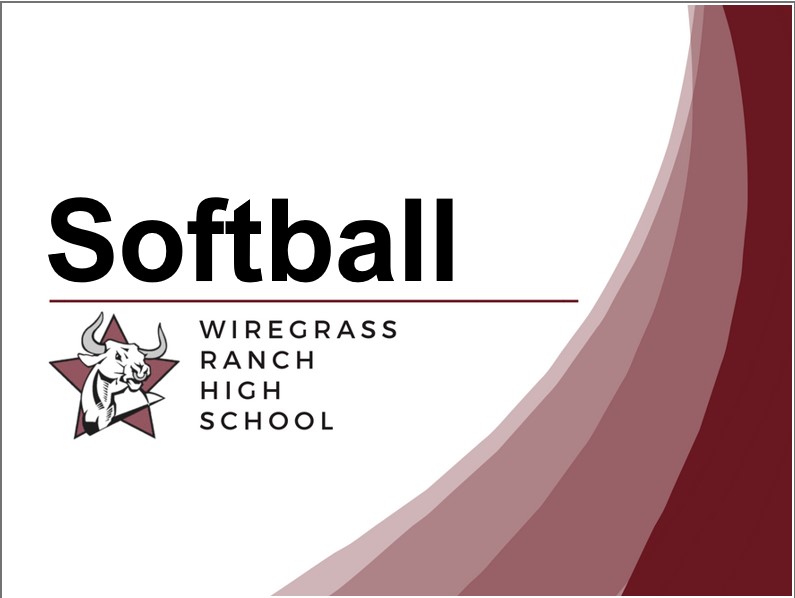 Coaching Staff
Yamani Vazquez         (813) 394-1659              yvazquez@pasco.k12.fl.us
Tyler Finn                      (813) 313-8374           tyfinn737@gmail.com
Vision
To extend growing opportunities to players with a desire to compete at a high level, learn the value of hard work, and be a team player. Through teamwork and sportsmanship, we will prepare our student-athletes for challenges they may encounter in life.  We strongly believe that these values will lead into a confident, and encouraged young woman who will be ready to embrace and enjoy competition at all levels.
Practice
Varsity and JV
Every day, except on the days we have games

3:40 p.m. – 5:45 p.m. (Pitchers and catchers start at 3:15 p.m. for additional drills are reps)
Expectations
| | | |
| --- | --- | --- |
| 1.      100 % Effort | 2.      Positive attitude | 3.      Focused drive |
| 4.     Team oriented | 5.      Competitive drive | |
Timeline
Beginning Tuesday, October 26, 2022, we will begin fall ball with open practices. We will play in the NSA Fall Ball league. Once fall ball league ends, we will play in one or two NSA tournaments during the months of November and December.  We will hold practices every Tuesday at 3:40 p.m. to 5:45 p.m. Tryouts will be on January 24th and 25th.  Following tryouts, we will make determinations about player selection. After player selection we will inform parents of the permanent practice schedule. Once the selection process is completed the team will begin their regular practice schedule leading to our first regular season game February 22nd.  The following is the tentative dates leading to regular season play in February.
Tuesday, October 26th – 1st Open field practice, and every Tuesday, 3:40 p.m. to 5:45 p.m., until January 18, 2022.
November and December – NSA Tournaments – Dates TBA
Monday, January 24th and Tuesday, January 25th – Tryouts, Varsity and JV, from 3:25 p.m. to 5:30 p.m. (All physical forms must be turned in)
Wednesday, January 26th – Player selection.
Friday, January 28th – Registration Night/Uniform fitting day. We will complete team roster.
Monday, January 31st – First official team practice. See above heading for times.
Tuesday, February 22nd – First regular season game vs. Land O' Lakes (Away)
Fees
Once the tryout phase is completed and you are notified that your daughter has been selected for the Varsity or JV team, we will collect the athletic registration and equipment fee during registration day.  The fees for the 2022 WRHS Softball season have been set as followed:
Athletic Fee – $70 ($40 if they have already played another sport) – This fee is per player. This is the athletic fee for Pasco County Schools, and it will cover the cost of the school hosting the team and other administrative expenses to include: players' insurance, bus transportation and utilities. This fee is paid online through Rycor system in the parent portal.
Equipment Fee – $250 – For 1st year JV and/or Varsity players or $150 for returning JV and/or Varsity players. This fee is per player. This fee will cover equipment order (i.e. socks, helmets, hoodies, compression shirts, and bat bag).  WRHS will provide uniforms to include: jerseys, pants and belts. Players provide their own bat and glove. This fee will go to WRHS Athletics Boosters account for softball use. Cash or check made payable to WRHS Athletic Boosters
Traveling
Players will be provided with bus transportation to and from away games. Families are responsible for all other travel expenses to include: transportation, gas, and food, among others.
Fundraisers
Fundraisers are a critical component of High School Softball. We will conduct a variety of fundraisers throughout the season in order to meet some budget requirements and/or order new equipment for the team. We will require full commitment from players and parents to participate in fundraisers during their tenure with the team. Fundraisers will offer valuable lessons for these young girls. They will learn to collaborate and work together to achieve a common goal.  We believe this is one of the most powerful lessons in team sports, and the coaching staff will encourage and expect full participation.
Forms and Certificate
All forms and certificate must be turned in before October 26th, (1st day of Open Field Practice). The following are the forms and certificate needed and can be obtained at https://www.pasco.k12.fl.us/athletics/forms/
All student-athletes need to complete the following courses and submit a certificate of completion along with all forms before January 24, 2022, first day of tryouts.
The video can be access through NFHS Learning Center at https://nfhslearn.com/ you will need to create an account and select the free course.

Concussion in Sports Students
Heat Illness Prevention
Sudden Cardiac Arrest
Print this information here: 2021-2022 WRHS Softball Information